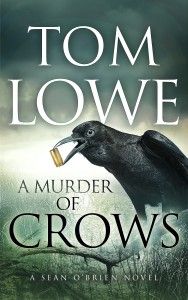 Coming fall of 2016 –
The eighth book in the internationally bestselling Sean O'Brien series.
A MURDER OF CROWS
When O'Brien's close friend, Joe Billie, is accused of a brutal murder, police believe the dead man was the victim of a revenge killing. All evidence points to Joe Billie, and to complicate matters more, Billie refuses to tell investigators why he believes he is being set up to take a lethal fall. To reveal the reasons could violate a sacred covenant with roots going back in time to something that legendary Seminole warrior Osceola did before last war with the government. As the state places Billie on trial for murder, O'Brien must follow a covert path into history to find a killer who believes he has a right to leave a trail of blood across an infamous Trail of Tears.