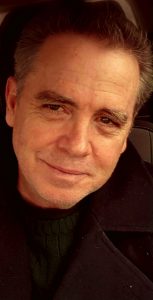 Welcome!  I'm delighted you've taken a few minutes to join me here.  My patchwork biography is sewn together from a strong curiosity gene that is somehow woven into my DNA.   It's motivated me to travel extensively.  To do things like jump out of a perfectly good airplane two miles above earth—more than once.  To sail, SCUBA dive, cliff dive, to explore, to travel to Cuba in a ragged fishing boat and to return in a maritime conga line in 1980.  To see what's around the next corner, the next bend in the road.
Why?  It's the "why factor" itself that fuels my curiosity.  It's the "what ifs" that play out in my imagination.   This is often how I begin writing a novel.  I wonder what would happen if the dominoes were tipped.  How far would they fall and who would be touched?  What caused the momentum, and for the characters in the story, how were they affected?  How did they change through the journey?
Story, at least the stories I enjoy reading, fiction and non-fiction, are often about the human triumph in spite of, (or because of) great odds against them.  Perhaps that's why I was first attracted to journalism.  It wasn't the bad news I enjoyed covering—it was the good news that so often came from the bad.  How others helped others.  And how being broken didn't always mean being beaten.   How the scars healed into a better journey.
I began my own journey working many jobs, as countless people do.  I worked in factories, restaurants, bars and boatyards.  I worked for small and large companies.  Disney was the largest.  All along, I wrote freelance magazine and newspaper pieces.  Eventually I became a fulltime journalist, working in newspapers and television.  I wrote and produced long-form documentaries for PBS.
The many years as a journalist were a good way for me to sharpen my oyster knife, looking to string a few pearls together.  The time and opportunity gave me access into the human condition.  It allowed me to witness the worst and best in people.  To try to put it in some kind of written or visual perspective that followed the "what, where, how, and when," and most importantly, the "why."  The profession gave me the opportunity and incentive to dig deeper into my own core.
In the meantime, I moved my storytelling from non-fiction into fiction, into the novel.  The Sean O'Brien series, using Florida as a "character," gives me the opportunity to draw from the deep well of the human condition to fictionalize actual subject matter that I hope will interest you.
My first stand-alone novel, DESTINY, which is now the first book in a trilogy, is international in scope.  But yet it's right next-door in psychological suspense.  Greed knows no borders.  It's about what happens when an American cryptographer, Paul Marcus, is summoned to analyze newly found papers left behind by Isaac Newton, the cracking of a code in those papers will cause Marcus to become the most hunted man on earth.
As a reader, the novel is my favorite form of entertainment.  And as a writer, it's provided me a new path to follow, to wonder "what if."  It gives me the chance to explore and share with you, the reader.  I'm delighted that you're here for this part of the journey.   Let's see what's around the bend.